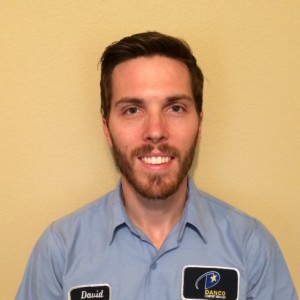 David Kampfhenkel
Service Specialist
10 Reviews
Heat Pump Maintenance in Hewitt, TX 76643
"My heat pump system is almost one year old and I thought it was a good idea to have an inspection / check up of the system. Danco was also thinking that and so we arranged a day and time that was convenient for me.
David came and performed a thorough detailed inspection of the entire system including the A/C, inside and outside. He was polite and courteous and took the time to talk with me. He asked questions so he could evaluate properly and also address any concerns or questions about the system that I might have. He also introduced products for the system but was not pushy in order to make a sale. He left me information and a written report plus offering to send by email."
– David L.
Air Conditioner Maintenance in Waco, TX 76712
"David was exceptionally friendly & professional. I felt very blessed to have someone check everything so thoroughly and explain why recommendations were given while also allowing me time to think about what we would like to do and the cost, etc.
I will highly recommend this service to anyone as it's well worth the investment and provides great peace of mind."
– Tina L.
Heat Pump Maintenance in Woodway, TX 76712
"David did an excellent job and explained things that needed to be fixed and what maintenance he was going to do."
– Karen C.
Air Conditioner Maintenance in Waco, TX 76705
"As always, David was professional, knowledgeable, and courteous as he performed our 6 month service. He was thorough while checking our system and explained each part of it to my husband and myself. He gave his recommendations and the reason for those. We truly appreciate Danco and its employees and have had nothing but positive interactions with them. Thank you for protecting our investment by making sure our system is kept in proper working condition."
– Susan W.
Other Maintenance in Waco, TX 76710
"David arrived on time for our Fall Maintenance check. He was thorough and efficient in the servicing of our equipment, and explained what he was doing as he went through the system. He also explained the recommendations for our system (surge protectors/sensor replacement, etc) and left us with all the facts and figures for our consideration. He is an excellent technician! Thanks for sending him out!"
– Barbara P.
Air Conditioner Repair in Woodway, TX 76712
"David was very thorough and knowledgeable. He clearly loves his job and is exceptional at it. My system works great now!"
– Adam J.
Air Conditioner Maintenance in Woodway, TX 76712
"David was super helpful and resolved my air conditioner problem with professionalism and expertise. He arrived only 45 minutes after my call. I highly recommend Danco!"
– Kim A.
Air Conditioner Repair in Waco, TX 76712
Thank you, DANCO for being there. Our unit went out during the evening, I contacted your answering service and received a phone call the very next morning. David arrived within the hour and was finished with the repairs and maintenance before noon.. In Texas, air conditioning is essential, and having a company one can trust to be timely, courteous, thorough and qualified is even more essential. Thanks again for such great service.
– Clif D.
Air Conditioner Repair in Hewitt, TX 76643
Air Conditioner Repair in Hewitt, TX 76643